En tête-à-tête
Bady Dalloul & Thomas Laval
On Thursday 21 September 2023 at 18:30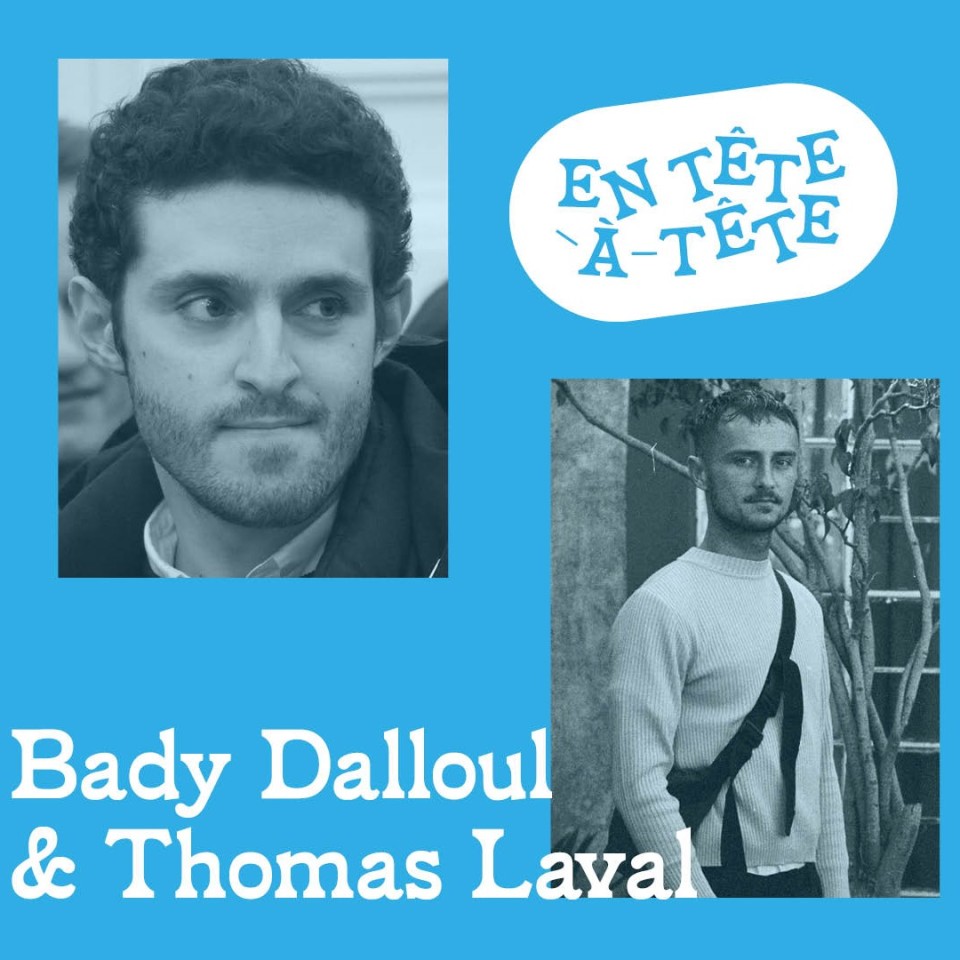 À l'occasion de l'exposition Dans un pays lointain… le FRAC vous invite à un échange entre l'artiste Bady Dalloul et Thomas Laval, enseignant chercheur en histoire de l'art.
Bady Dalloul
Artiste franco-syrien né à Paris (France) en 1986, Bady Dalloul est diplômé des Beaux-Arts de Paris en 2015 avec les félicitations du jury. Dans son travail de recherche, autour du croisement des histoires, la dimension politique, sociologique et historique est au cœur de sa pratique. Par le dessin, la vidéo ou encore l'objet, Bady Dalloul fait dialoguer l'imaginé et le réel en remettant en cause la logique même de l'écriture de l'histoire. Récipiendaire du prix pour la Création contemporaine arabe des Amis de l'Institut du Monde Arabe en 2017, son travail a été notamment montré au Palais de Tokyo pour "Fragmenter le monde" (2020), à la Khalid Shoman Foundation pour «Three Artists, Three Generations» (2019), et a fait l'objet d'une exposition personnelle au Musée Arabe d'Art Moderne - Mathaf (Qatar) en 2022.
Thomas Laval
Thomas Laval est doctorant au sein du laboratoire du Centre d'Étude des Arts Contemporains de l'Université de Lille. Sa thèse étudie le travail d'artistes chercheurs pour situer la pratique de chacun d'un point de vue socio-historique, esthétique et épistémologique. En 2021, il a effectué un séjour de recherche à l'Instituto de Investigaciones Estéticas de l'UNAM à Mexico. Il a communiqué lors de symposiums, séminaires et journées d'études, notamment à l'UNAM (Mexico), à l'UCLA (Los Angeles), à l'INHA (Paris), à l'université Paris 8 Vincennes-Saint-Denis, et l'Université de Lille. Il enseigne l'histoire de l'art contemporain et a assuré des charges de cours à Sorbonne Université, l'Université de Picardie Jules Verne à Amiens, l'Université de Lille et à Parsons Paris - The New School. Précédemment, il a assisté Nataša Petrešin-Bachelez et Giovanna Zapperi pour l'exposition Defiant Muses, Delphine Seyrig and the Feminist Video Collectives in France in the 1970s and 1980s au LaM à Villeneuve d'Ascq et au Museo Reina Sofia à Madrid. Auparavant, il a participé au Shanghai Curators Lab dirigé par Carolyn Christov-Bakargiev et Yongwoo Lee.